News and Updates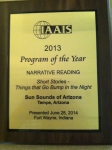 Sun Sounds Wins an IAAIS Program Award! Sun Sounds brings home another award from the IAAIS Conference in Fort Wayne. We won Program of the Year for narrative Reading for "Short Stories - Things That Go Bump In The Night", read...
Upcoming Events
Sun Sounds of Arizona will be presenting to the Low Vision Group at The Forum at Desert Harbor on Monday July 28th from 3pm-4pm. Koy Mangan, Sun Sounds Outreach Coordinator, will be presenting an informational session on Sun Sounds and the...
Information Access
Sun Sounds of Arizona provides audio access to information to people who cannot read print because they have a disability. You can connect with Sun Sounds of Arizona on the radio, telephone, and internet as a live stream or podcast. Sun Sounds also...