A Healthy Place to Work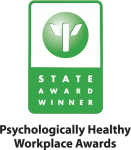 Sun Sounds of Arizona is pleased to receive the State Psychologically Healthy Workplace Award from the American Psychological Association in Arizona.
Information Access Delivery Formats
Sun Sounds of Arizona provides audio access to information to people who cannot read print because they have a disability. You can connect with Sun Sounds of Arizona on the radio, telephone, and internet as a live stream or podcast. Sun Sounds also...